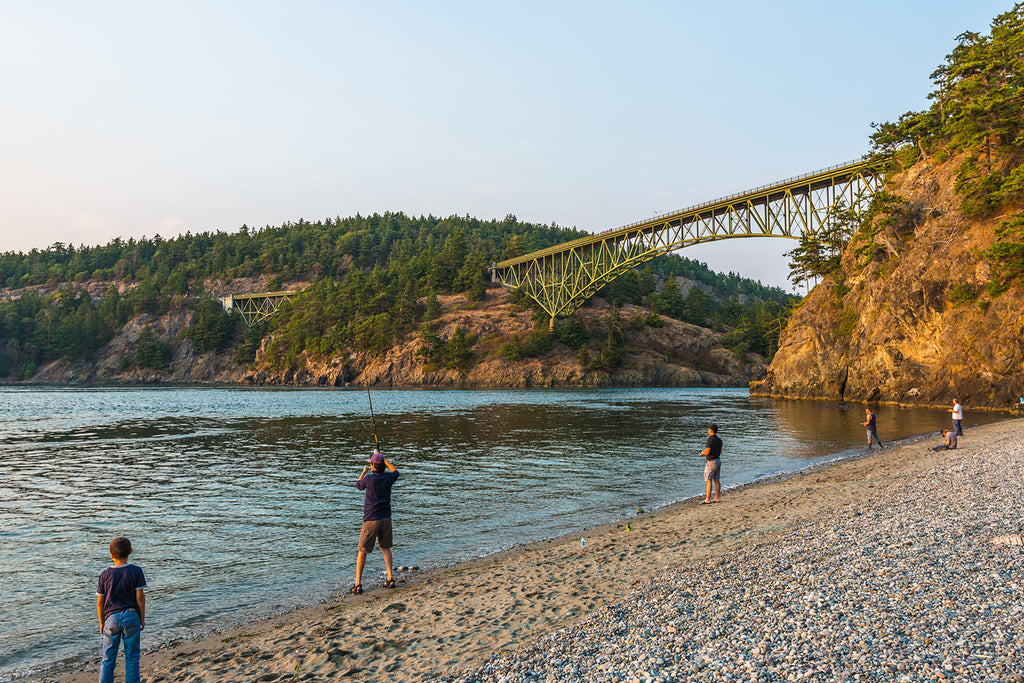 "Whidbey Island is a beach fishing mecca, and during the summer there's no better place to explore on foot, casting to migrating salmon that stop to feed in the shallows near many public access points."
Discover Whidbey Island's many public salmon fishing beaches
Whidbey Island is Washington's largest island, located in the center of Puget Sound and an absolute magnet for beach anglers. A majority of Puget Sound's salmon migration follows close to the north and west shorelines of the island, and it happens to be easy fishing for most of the summer and into fall. Follow along with us as we circle the island and lay out the best places on Whidbey Island to fish for salmon from shore.
Once you choose your own Whidbey Island salmon fishing adventure, make sure to grab some of our favorite beach fishing lures for salmon. Good luck out there!
Deception Pass - Salmon fishing at one of Washington's most scenic state parks
Deception Pass is one of the most iconic places in Puget Sound. The historic Highway 20 Deception Pass Bridge looms high and connects Whidbey Island's north end with Fidalgo Island, Anacortes and the mainland. This narrow passageway is another type of highway, and most of the hundreds of thousands of salmon that are making their way home to the Skagit River have to swim through. Fish next to the bridge at the park's North Beach in the currents of Deception Pass, or head to the gently sloping West Beach that faces the Strait of Juan de Fuca. Both offer an amazing backdrop to some of the best salmon fishing from shore available in Washington State. All the good fishing is located inside Washington's Deception Pass State Park. West Beach is in Marine Area 6 and North Beach is in Marine Area 8-1. The park is located at 41229 State Route 20, Oak Harbor, WA 98277.
Bush Point - A small public beach with a big salmon fishing history
This famous salmon fishing beach once hosted one of the most popular resorts on Whidbey Island, now all the services and visitors are gone, but great shore fishing for Coho and Pink Salmon remains on the public beach adjacent to the boat ramp. Cast small metal jigs from this shallow beach and expect to have some good luck when the salmon are in their peak migration. Check out Port of South Whidbey - Bush Point Boat Ramp. Bush Point Beach is in Marine Area 9 at 231 East Spyglass Drive, Freeland, WA 98249.
Lagoon Point - Local favorite in the center of Whidbey Island's west side.
Halfway between Fort Casey State Park and Bush Point is another very well known salmon fishing beach. Access the beach via the small parking lot for Lagoon Point County Park. It's a small beach access with a few parking spots, seasonal bathrooms and is open dawn to dusk. Lagoon Point County Park is in Marine Area 9 at 95 Westcliff Drive, Greenback, WA 98253.
South Whidbey State Park - Hike away from the crowds to this hidden island fishing spot.
Nearby the beaches at Lagoon Point and Bush Point will be abuzz with fishing activity, and rightly so as these two locations have easy access, parking and great fishing. Halfway between the two, a few more able bodied anglers will use South Whidbey State Park as their beach access. Parking up on the bluff and hiking the trail down the gradual bluff to the shore. If you are looking for lighter crowds and an awesome setting, park here, hike through the scattered stands of old growth forest and prepare to hike your catch back with you up the hill. South Whidbey State Park is in Marine Area 9 and located at 4128 South Smugglers Cove Road, Freeland, WA 98249.
Fort Casey State Park - Salmon fishing from shore near Puget Sound's historic armaments.
Fort Casey's bulkheads and battery are thoughtfully preserved and available for the public to explore at Washington's Fort Casey State Park. The location is especially important to us, as it sits at Admiralty Head, part of Whidbey Island that extends out a ways into Admiralty Inlet and the salmon migrate right in front, tight to the beach. An easy to recognise sandy point is the hot spot, but feel free to work your way north a ways and explore the beach away from any crowds. We have personally caught Coho and Pink Salmon far to the north away from Admiralty Head. Fort Casey State Park is in Marine Area 9 and located at 1280 Engle Road, Coupeville, WA 98239.
Clinton Beach Park - Walk off the ferry and make a few casts! 
A stone's throw from the ferry terminal in Clinton is a great little park that offers great beach access and the possibility of catching a salmon on Whidbey Island's eastside. Walk off the ferry and hang a right, or park just north of the ferry landing and explore miles of beaches. There should be a pretty decent chance of catching a Coho Salmon or Pink Salmon when in season. Clinton Beach Park is in Marine Area 8-2 and located at 6489 Hunziker Lane, Clinton, WA 98236.
Possession Beach Waterfront Park - The classic salmon beach near the Bait Box 
Possession Point Bait Company has been selling fishermen live herring and letting them fish on their beach since the 1960's. This area on the southeast side of the island, just northeast from Possession Point, is part of the marine highway that Pink and Coho Salmon travel on their way to the Snohomish River near Everett. The "bait box" is a well known spot, and their store has been a keystone of the local community for a couple generations. It alone is worth a trip to the island to fish there, but nearby Possession Beach Waterfront Park is another great option, sporting good salmon fishing on this public beach, a boat ramp, parking and restrooms. Both are in Marine Area 8-2. Possession Beach Waterfront Park is located at 8212 Possession Roadd, Clinton, WA 98236. Possession Bait Company is at 8311 South Franklin Road, Clinton, WA 98236.