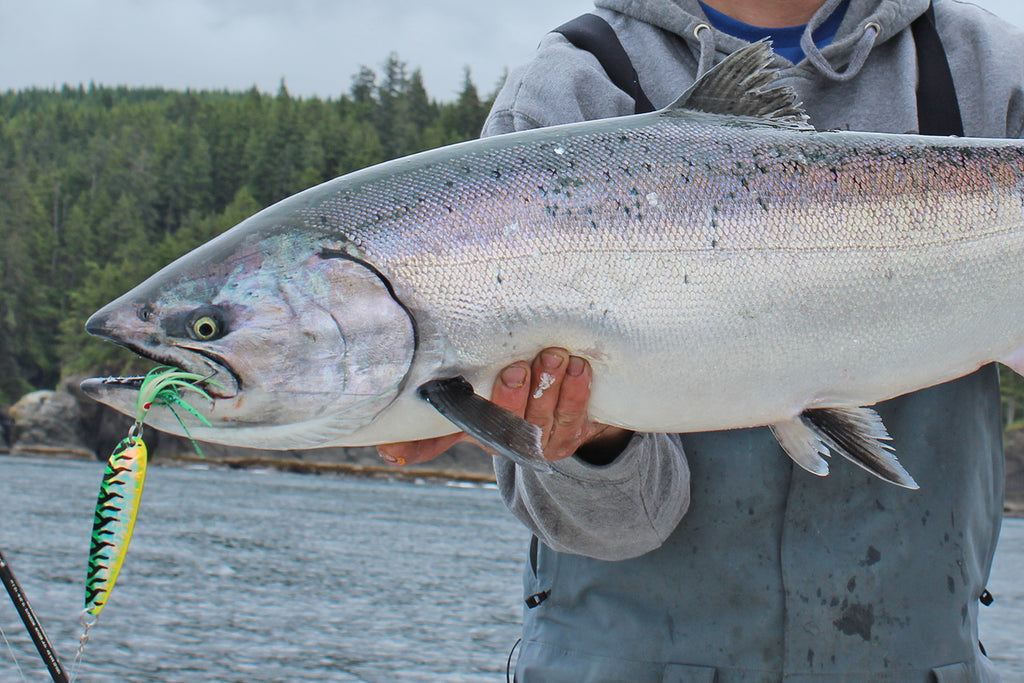 "The flutter of certain spoons seems to out-produce most other trolling lures, especially if you are fishing for Chinook, you've gotta give these some time on the troll."
One of the best setups for salmon trolling is the Flasher & Spoon
There's just something that Chinook Salmon can'r resist about some of our best saltwater salmon trolling spoons. Thin blade spoons like McOmie's and Silver Horde seem to catch more than their fair share of Chinook and Coho throughout most of Washington State's marine waters. This is our basic guide to introduce you to this perfect salmon fishing rig as well as share some links to grab the gear from our shop!
Flasher & Spoon - Quick Rigging Guide and Gear
Flasher: Pro-Troll 11" Flasher or Gibbs 11" Highliner Flasher.
Leader: 20 to 40 pound test in 26" to 42" length. P-Line CFX or SS Leader Fluorocarbon, Maxima Ultragreen or Seaguar Fluorocarbon.
Spoon: McOmie's Custom Glow Spoon in 2-5/8", 3-1/4" or 3-7/8", Silver Horde Kingfisher Spoon 3.0, 3.5 or 4.0, or Silver Horde Coho Killer Spoon.
Mainline: Braided mainline of 40 to 65 pound test P-Line X-Braid or Powerpro with a 25' to 30' topshot of 40 pound P-Line Fluorocarbon or Maxima Ultragreen. If you prefer to use a monofilament mainline, we recommend 20 to 25 pound P-Line CXX Strong, Maxima Ultragreen or Izorline.
Swivel: Tie one on the end of your mainline to avoid any line twist, either a Sampo Ball Bearing with Crosslock Swivel, Sampo Ball Bearing with Duolock Snap Swivel or P-Line Ball Bearing with Crosslock Snap Swivel. 
Salmon trolling tips for the Flasher & Spoon Setup
The Flasher & Spoon Setup is typically trolled using downriggers. Run your setup back 20' to 30 feet back before clipping the mainline into the downrigger release clip. We like to see our trolling speed fast enough to get the flasher to rotate 360 degrees consistently. Chinook Salmon tend to like a slower troll, so get that flasher barely rotating but don't overdo it! Coho Salmon appreciate a faster speed, so don't be surprised if your speed-over-ground troll speed is 2.4mph to 4mph (this will vary depending on the current speed and direction). If you want to use a Flasher & Spoon but don't plan on using downriggers, you can rig up one with a Flat-lined Flasher Setup or a Diver & Flasher Setup. With either of these non-downrigger option, we recommend downsizing to an 8" flasher. 
Our best flashers for Chinook and Coho Salmon fishing
For the most part, Pro-Troll 11" Flashers and Gibbs Highliner 11" Flashers are standard operating equipment here in the Pacific Northwest for salmon trolling. If you are going to troll in the pre-dawn hours, or troll deeper than 100', consider grabbing a few Pro-Troll Lighted Flashers, whose water-activated blinking light has changed the game for many expert recreational salmon trollers and charter captains alike. 
Pick a spoon that matches the size of local baitfish
We use spoons because they flat out catch salmon, and one of the main reasons that salmon find them so attractive is they flutter and flash just like the baitfish that make up their daily diet. Sometimes the size or color of the spoon doesn't matter and you can catch salmon on anything. But most times spoon choice matters, if you have any inclination on the size of the bait (see bait jumping or clean a recently caught salmon), you can match your spoon and increase your odds. As far as the best salmon spoon colors, most of the patterns that we carry incorporate glow-in-the-dark or a UV coating to increase their visability. Green, white, black, blue and purple are some of the primary colors that we use, but there are alot of other great patterns that catch salmon consistently, so make sure to grab an assortment of colors and sizes. We listed the earlier in the post, but some of our favorites are McOmie's Custom Glow Spoons, Silver Horde Kingfisher Spoons and Silver Horde Coho Killer Spoons.