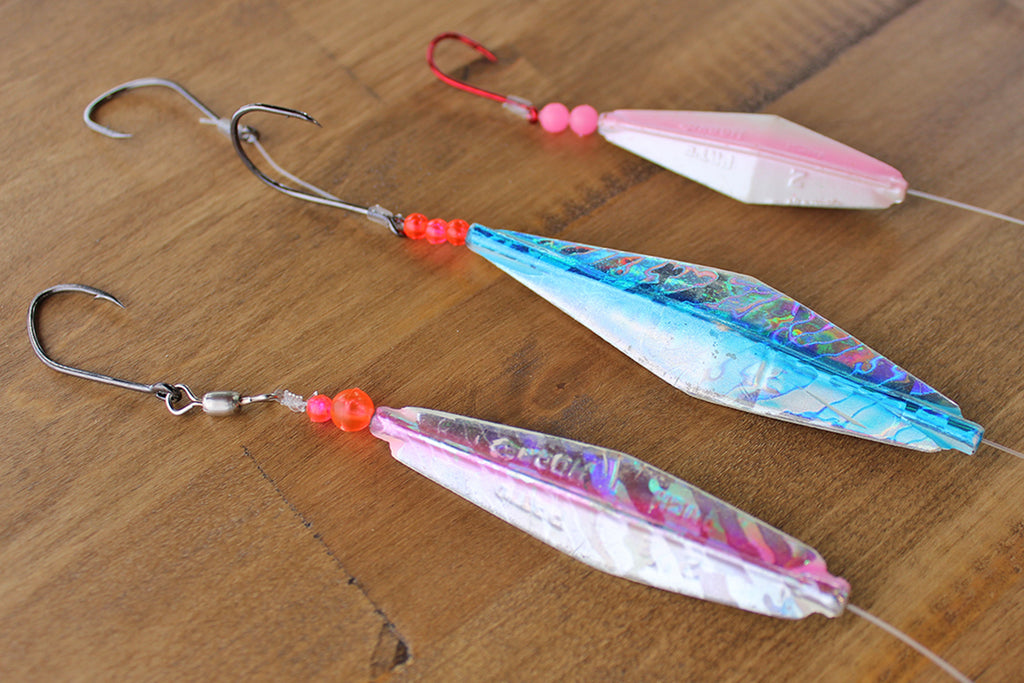 "The Buzz Bomb is by far the most widely used salmon fishing lure on every beach in Puget Sound, I can't think of another lure that is as recognized and popular , and they just so happen to catch plenty of fish for plenty of people."
Upgrade your Buzz Bombs with these superior hook configurations
While the Buzz Bomb has been a beach fishing favorite for generations, it just doesn't come packaged with the hook configuration we need here to meet Washington's saltwater salmon fishing regulations. Here is our guide of hook rigging options to give you a better hookup ratio while staying legal. In all of Washington's marine areas, your lure can have up to two, single-point barbless hooks for salmon fishing, making the trebles that come stock on Buzz Bombs irrelevant, we have a few replacement options for you. 
Buzz Bomb rigged with tandem-snelled octopus hooks
This setup is our most preferred, here we have a Buzz Bomb 3L Holographic Blue with two Gamakatsu Octopus 2/0 snelled in tandem with P-Line Salmon/Steelhead Fluorocarbon Leader - 20 Pound. Slide a couple of 4mm beads on the leader to give the Buzz Bomb something to rest on. Once a salmon snaps at this the double hook setup seems to get pinned nicely inside the mouth, even with barbless hooks. We like to use 20" to 30" of leader and connect it to our mainline with a Barrel Sivel Size 7. 
Buzz Bomb rigged with a single-point siwash hook and barrel swivel
Here we are rigging a Buzz Bomb 2.5" Holographic Pink. Take a Gamakatsu Big River Open Eye Siwash 2/0, attached to a Barrel Swivel Size 7 and tied it to our P-Line Salmon/Steelhead Fluorocarbon Leader - 20 Pound, 20" to 30". Thread on a couple 4mm Beads and then your Buzz Bomb. 
Buzz Bomb rigged with a single-snelled octopus hook
If you are fishing in an area that requires one single-point hook, this will also get the job done. Here we have a smaller Buzz Bomb 2" Pink Pearl and matched it with a Gamakatsu Red Octopus 1/0. Use P-Line Salmon/Steelhead Fluorocarbon Leader - 15 Pound, with around 20" to 30" of leader, a few 4mm beads and then the Buzz Bomb. 
Buzz Bomb with Hoochie Squid Skirt
One really easy way to upgrade your Buzz Bomb setup is to add a small plastic hoochie skirt over the hooks. This can completely change the action of the presentation, and if you head to any of the popular beaches of Puget Sound, Washington you will see plenty of experienced anglers using this trick. Take any of the hook rigging configurations mentioned above and add a small Gold Star Mini Sardine size or P-Line Sunrise Squid 2.5" or 3.5" Hoochie Skirt to the leader between your beads and your Buzz Bomb.