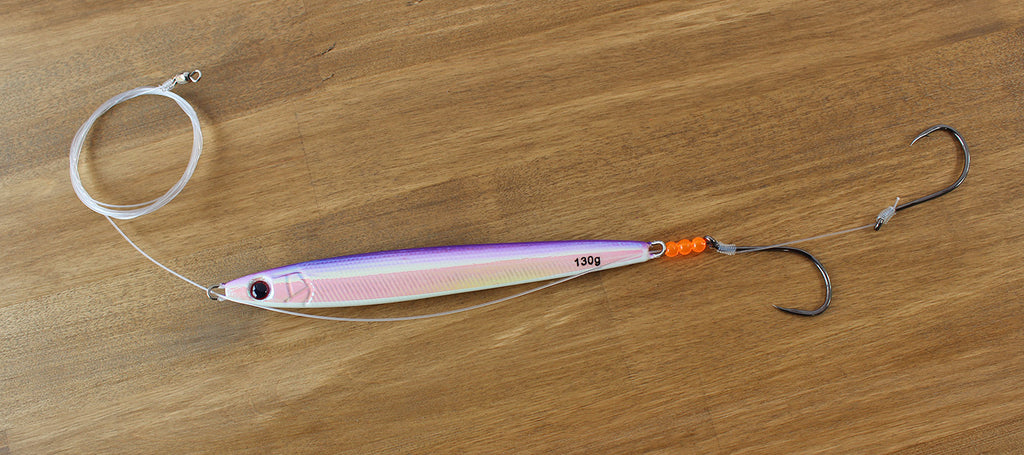 "Jigging is one of the most engrained tactics amongst the South Puget Sound fishing community, and when the Puget Pounder hit the market a few years ago, it became an instant favorite, hands down my favorite jig for Chinook."
Setting up your Puget Pounders for Salmon Jigging
Rigging the best hook setup on your Puget Pounders will give you the best landing success when jigging for salmon. Here are a few of our favorite setups.
Our favorite Gamakatsu hooks for rigging Puget Pounder jigs.
Gamakatsu is our top choice for salmon fishing, as they offer a wide variety of hook options, as the quality is unmatched. Everyone has their own preference for metal jig hook rigging, but our top hook styles are Gamakatsu Octopus tied in tandem, Gamakatsu Assist Stinger Hooks, Gamakatsu Open Eye Siwash, Gamakatsu Open Eye Big River Hook, Gamakatsu Octopus Strait Eye and Gamakatsu Treble (we only use trebles when we're fishing for Lingcod and Rockfish with Puget Pounders, but may be legal in some areas outside of Washington State for salmon). 
Some of the most commonly used hook configurations for salmon jigs.
In Washington State, we can legally fish with up to two single-point barbless hooks for salmon in saltwater areas, and our preference is the tandem octopus hook rigging method, however it requires a snell knot and some creative storage for these pre-rigged setups. Many of the single-point options are easy to setup, easy to store and fish really well. 
Sliding Puget Pounder on a fluorocarbon leader and tandem barbless octopus hooks.
An established setup that has been used with other similar bodied jigs for many years, the sliding jig with tandem hooks offers an effective setup that flat out puts salmon in the boat. 
Start by removing the factory stocked hook and split ring, take a pair of pliers and slightly bend the top and bottom eyes to one side (this is the side that your leader will rest on as pictured). Tie a double hook leader with about 26" to 30" of P-Line Fluorocarbon 30 to 40 Pound Leader with Gamakatsu Octopus Hooks close together, slide a few 4mm plastic beads down the leader, and then thread on your Puget Pounder Jig. Use size 2/0 Hooks for the 1.5 Ounce, 3/0 Hooks for 2.5 Ounce, 4/0 Hooks for 3.5 Ounce and 4/0 or 5/0 Hooks for 4.5 OunceI like to pre-tie on a Size 7 Barrel Swivel, wrap the leader up and store in my tackle box for a fast tie up in the morning.