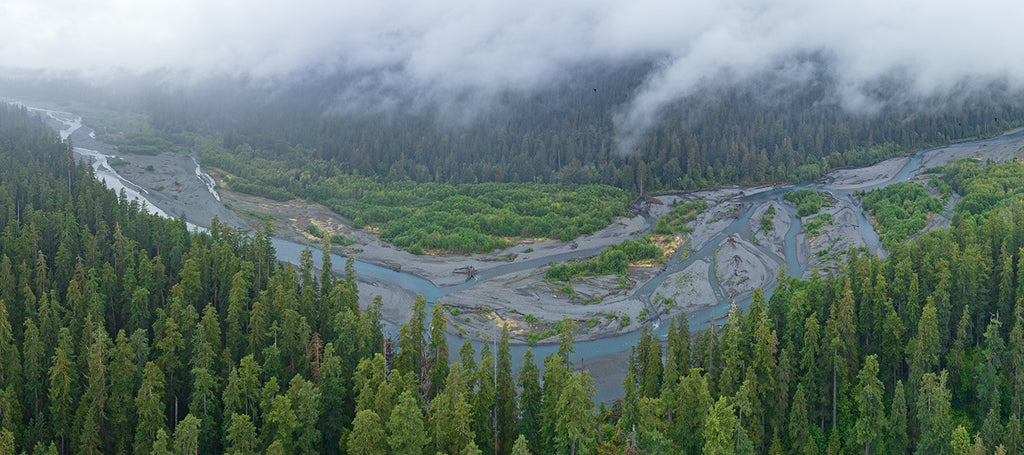 "We hiked up around on a number of sweeping gravel bars, drift fishing for Steelhead, and even though we did see a few other fishermen, it was clear that we were far removed from civilization in one of the most remote corners of the country."
Hoh River Fishing
One of the most iconic rivers on Washington's Olympic Peninsula, the untamed Hoh River carves its way from its source in the glaciers of Mount Olympus through one of the wettest temperate rainforests in the world, before emptying into the Pacific Ocean.
Returns of Steelhead and Salmon make the Hoh River a fishing destination worth exploring. While there are fish in the Hoh River year round, Steelhead are mostly targeted in the Winter, Chinook and Coho are mostly targeted in August through November, and Dolly Varden and Cutthroat Trout are targeted anytime the water is in shape.
Getting Around on the Hoh River
One of the best characteristics of the Hoh is that most of it flows freely through public lands and has amazing public access. The Hoh River's broad gravel bars offer ample access to anglers fishing from the bank, as well as numerous put-ins and take-outs for rafts and drift boats. The river swells numerous times a year and powerful flows cause its channels to shift regularly, keeping boaters constantly looking for the safest route around rocks, log jams and through channel braids. This also changes where you will find fish holding, making the Hoh River an exciting place to explore!
The river above Oxbow at Highway 101 is considered the upper river, and everything down from there is considered the lower river. The upper river above Oxbow meanders through State of Washington, National Forest, private and conservation group owned lands and is accessible via Upper Hoh Road, which takes you into Olympic National Park, you can continue from the end to several trails that add even more river access in the Park. Several campgrounds offer a place to set up your basecamp as well as public river access, such as Minnie Peterson, South Fork Hoh Campground and Hoh Oxbow Campground.
The lower river below Oxbow has a few access points from the south side off Highway 101, like G & L Shake and Alan Bar, but most of the lower river fishing happens from Oil City Road. This road passes many access points including Cottonwood Campground, pullouts off the road itself and Barlow's. The road ends at a trailhead in the Park's coastal section that takes you to the river mouth.
Hoh River Fishing Techniques & Gear
Spinners: Rolling spinners is one of the best ways to catch Hoh River Coho Salmon, but we see Chinook and Steelhead also fall for this classic technique. If the Hoh is running dirty (which it often does), a Size 5 Steelhead Slammer or Vibrax Blue Fox Spinner is preferred, but the river does clear up occasionally, at that point downsize to a Size 4.
Twitching Jigs: During the fall salmon season, this Coho-centric technique is a winner when the river has moderate to low flows. Use a 3/8 ounce Aerojig or Yakima Bait Twitching Jig and pitch it on the edges of current seams and in slower stretches around woodpiles and back-channels.
Plugs: During fall salmon season, a large Mag Lip 4.0 or 4.5 and a Flatfish M2 are great choices if you are fishing from a raft or drift boat and want to back-troll or sit on anchor.
Float Fishing: If you're targeting salmon during a time when bait is allowed, a large ¾ ounce float and a big juicy cluster of cured salmon roe can be the ticket for Chinook and Coho. Later on in the winter, when Steelhead become the target species, bait is often banned to protect Wild Steelhead, and a shift to smaller ½ ounce floats with a steelhead jig, pink worm on a jighead, or a soft plastic bead will be your go-to in moderate to low river flows.
Plunking: An age old tactic that is very popular on the Hoh River during high flows, plunking with a Size 4 to Size 2 Spin-N-Glo and bait will be a great way to intercept Chinook or Hatchery Steelhead. If you're fishing when bait isn't allowed, plunking can still be effective with a Spin-N-Glo and Yarn, or a small plug like a Mag Lip 3.0.
Drift Fishing: The Hoh River has plenty of long, sweeping runs that are perfect for drift fishing. These walking speed runs can have a trophy Steelhead positioned in any number of spots, and it can take hours for the drift fishing expert to work just one run. Drift fishing with pencil lead and a pink work or corky & yarn is standard practice on the Hoh for much of the winter.
Additional Hoh River Fishing Resources
It's important to note that fishing regulations within the Olympic National Park may be different from waters outside the park. We've provided links to both ONP and WDFW for you to check out.
WDFW Fishing Regulations Home Page
WDFW Emergency Regulations - Hoh River
Olympic National Park Fishing Regulations